Products and Services for CW DC Auto Electric and Trolling Motor Shop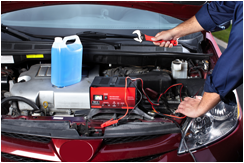 CW

DC Auto Electric and Trolling Motor Shop supplies Broken Arrow and eastern OK with a wide variety for all your DC automotive, commercial, farm, lawn & garden, marine, ATV, and RV needs! We also offer trolling motor repairs, sales, and parts. We are an authorized warranty and repair center for Motorguide and Minnkota trolling motors. We also provide installation for fish locators and depth finders plus much more. We offer many types and models of starters, alternators, and batteries for your needs. Our company also provides fast and friendly service at a friendly price.
When it comes to top-quality DC electric and trolling motor solutions with great value, we're here for you. We also offer guarantees and warranties for our products and services.
We guarantee wholesale prices on all starters, alternators, and batteries.
We Also Offer These Services:
Diagnosis for DC electric auto, marine, and commercial
Diagnosis for trolling motors
Installation
Power Up All of Your Automotive, Commercial, Farm, Marine, Lawn & Garden, ATV, and RV equipment. Call Now!
Contact us for all of your starter, alternator, battery, and trolling motor needs. Our products are available for pickup and delivery for commercial and farm accounts only.
CW DC Auto Electric and Trolling Motor Shop
501 S 10th St.
Broken Arrow, OK 74012
Phone: (918) 251-7434
Email: aswinkle@yahoo.com